Annual TBPA Conference
What is it?
Every year, the Tennessee Backflow Prevention Association holds a conference providing its members with an opportunity for learning from, and networking with, industry leaders.
When is it?
Our next conference will be October 18th-20th, 2017.
Schedule Breakdown:
October 18th - Board meeting (all members welcome) - 5:30pm
October 19th - Conference - 7:30am-4:30pm
October 20th - Conference - 7:30am-12:00pm
Where is it?
This year's conference will be in Gatlinburg, TN at the Courtyard Marriott (315 Historic Nature Trail).
If you'd like to stay at the Marriott, call them (865-436-2008) to make a reservation by September 17th. Rooms are $179 on weekdays and $199 per night on the weekend.
What happens at this conference?
Check out the recap below to see what went on at last year's conference.
2016 Recap
Well, this makes our 20th successful TBPA Conference.
We had a great turn out, a drawing for a $200 gift card, awesome speakers, and some fantastic vendors! Tons of great education and networking!
Didn't make it this year? No worries. We'll be doing this again in 2017, and we look forward to seeing you there.
Read on to find out what you missed and why you should definitely join us in 2017.
---
Our TBPA President Wayne Osborne started things off with a brief discussion of recent, national news related to backflow prevention.
Next, a drawing was held giving all attendees who had registered early a chance to win a $200 gift card. The lucky winner was... Kitty Vaughn. Congrats Kitty!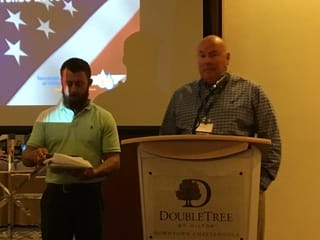 Ben Rodriguez, with the Fleming Training Center, was our first speaker. He gave a presentation on current state cross connection control requirements for testers and utilities. He also discussed the different entities that offer classes for tester certification.
Finally, Ben shared the Fleming Training Center's goals to include more helpful information for state testers on their website as well as his hope that the state manual can soon be updated.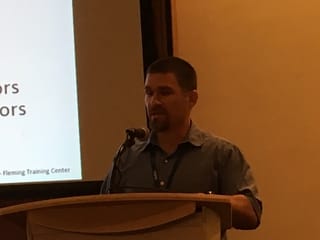 Joey Smith with Apollo Assemblies was next up to the podium. Joey provided a detailed overview of Apollo's latest backflow preventers and valves.
Damon Bell with Erie Insurance gave a very informative talk on contractor liability. So much can happen while installing or testing a backflow preventer! Damon provided a number of scenarios that showed just how important liability insurance can be. If you're an independent contractor, you should definitely look into it.
Lloyd Rainey with Mid-America Marketing (featuring Watts, Ames, and Febco) gave an excellent presentation on installations including: installation guidelines, operations of valves and assemblies, and bad installations. He also gave a hands on demonstration of a backflow preventer repair, and discussed the possibilities and potential causes of Legionella disease in commercial hot water lines.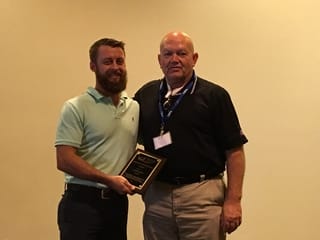 Lloyd's passion for clean water was particularly inspirational.
It's easy to get caught up in the day-to-day of replacing check valves and filling out reports. However, we play a vital role in providing clean, drinkable water to over six million people in the state of Tennessee. Just think about that for a minute. That's something we should take pride in and be passionate about!
On the regulatory side of things, Walter Idol with the University of Tennessee Industrial Services gave a presentation on the OSHA regulations defining a permit required confined space which was very informative. Anyone who's had to read through these regulations definitely appreciated this presentation.
John Strickland with Murfreesboro gave quite the thought provoking presentation on reuse water, i.e., water that goes straight from the wastewater plant to the water treatment plant.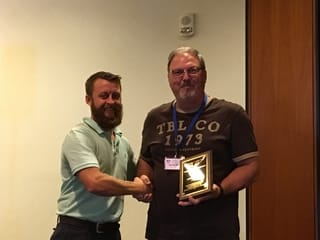 Our yearly awards were presented next with the Water Purveyor Award going to Cleveland Utilities, the Individual Award going to Danny Warren, and the Robert Lashlee Award going to Lloyd Rainey. Congratulations to these winners!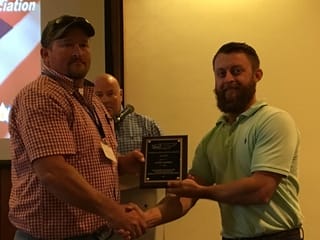 Drew Cook with A.R.I. Backflow Preventers gave a presentation and hands on review of their composite based backflow preventers.
Josh Perry gave us an inside look on the Clarksville cross connection control program's requirements and procedures.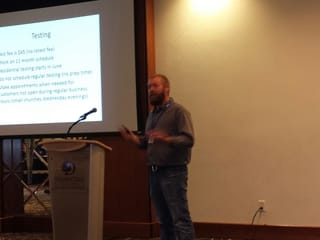 Our final speaker was Greg O'Neal (Sales Manager - Ben O'Neal Company). Greg gave an overview of their latest assemblies while also demonstrating some hands on repair procedures. He concluded by discussing the many benefits of (multiple) smaller assemblies over a single large assembly.
Smaller assemblies are easier to maintain, they tend to fail less, and when they do fail, they are easier to repair. This, of course, leads to cost savings when compared to larger assemblies.
---
Our 20th annual conference was a huge success!
We're already planning for next year. Don't miss out!
TBPA members are the first to know the conference plans. Become a member so you'll have plenty of time to make arrangements to attend the conference (plus, you get other benefits like early access to our quarterly newsletter).
If you're not ready to join over 100 other people in supporting the TBPA, you can also find information about the upcoming conference in our newsletter.